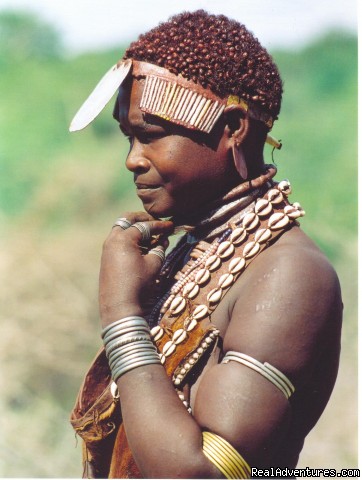 Trip Highlights;
• Lake Tana Monasteries and Blue Nile Falls in Bahir Dar
• Royal Compound and Debre Birhan Selassie church in Gondar
• Famous rock-hewn churches of Lalibela
• National Museum, merkato, Entoto Mountain in Addis Ababa
Trip Itinerary:
Day 1:
International arrival to Ethiopia at Bole International Airport. Transfer to hotel. City tour of Addis Ababa including Entoto Mountain (the capital of Ethiopia before Addis Ababa), merkato, said to be Africa's largest open-air market, and the National Museum (home of Lucy, hominid skeleton dating back 3.2 million years). In the evening, traditional Ethiopian dinner with cultural music and dance show. Overnight at Ghion Hotel (4-star).
Day 2:
Early morning flight to Bahir Dar. After arrival and brief hotel check-in, embark on a boat trip on Lake Tana to explore some of the monasteries hidden on the shores and islands of Lake Tana. In the afternoon, depart out of town to the Blue Nile Falls for an easy hike in the area. End the day with a sunset over Lake Tana from the top of Bezawit Hill, next to the former palace of Haile Selassie. Overnight in Bahir Dar at Tana Hotel.
Day 3:
After breakfast, proceed driving north to Gondar. The drive will take you through rural villages, offering wonderful insight into the Amhara culture and the traditional agricultural methods still in use today. After arrival in Gondar and brief check-in to hotel, the afternoon will be spent exploring the sites of Gondar, including a visit to the Royal Enclosure, with six castles and several other buildings. Additionally, visit Fasilidas's Pool, still used for Timket celebrations today and the Debre Birhan Selassie church, with the most famous ceiling in Ethiopia. Overnight in Gondar at the Goha Hotel, set on a hill overlooking the town of Gondar.
Day 4:
Continue this morning on a flight to Lalibela, the most famous of all of the Ethiopian historical sites. After lunch, begin to explore the 11 rock-hewn churches of the remarkable king Lalibela, visiting the Northwestern Cluster of churches – Bet Medhane Alem, Bet Maryam, Bet Meskel, Bet Danaghel, Bet Mikael & Bet Golgotha (entry not permitted for women). Overnight in Lalibela at Mountain View Hotel.
Day 5:
In the morning, visit the Southeastern Cluster of churches – Bet Gabriel-Rufael, Bet Merkorios, Bet Amanual, and Bet Abba Libanos. Finally, visit the most famous of all the churches – Bet Giyorgis, a huge monolith in the shape of a cross, and constructed in honor of St. George, the patron saint of Ethiopia. After lunch, take an afternoon trip to visit the church of Yimrehanne Kristos. The most popular of the churches outside of Lalibela, this church is built in the late-Axumite style, with layers of wood and granite, set in the entrance to a large cavern. After the visit, return to Lalibela for overnight at Mountain View Hotel.
Day 6
Return flight to Addis Ababa. For early risers, take an optional morning hike up the mountain overlooking the town of Lalibela to the Asheton Maryam monastery. Hiking may be done on foot, or with mule, if desired. After returning to Lalibela, it will be time for the return flight back to Addis Ababa. In Addis Ababa, city tour will continue if not completed on first day. (Cultural dinner may also be replaced today, depending on flight arrival times on first day.) Overnight in Addis Ababa at Ghion Hotel (4-star). College of Biological and physical Sciences.School of Biological Sciences. School of Physical Sciences. Department of Meteorology.Department of Physics.

Day 7:
Transfer to airport for international departure. Department of Chemistry. Department of Geology.Institute for Climate change and Adaptation. Centre for Biotechnology and Bioinformatics. School of Computing and informatics.
End of Tour